Fit Guide: High Waist Undies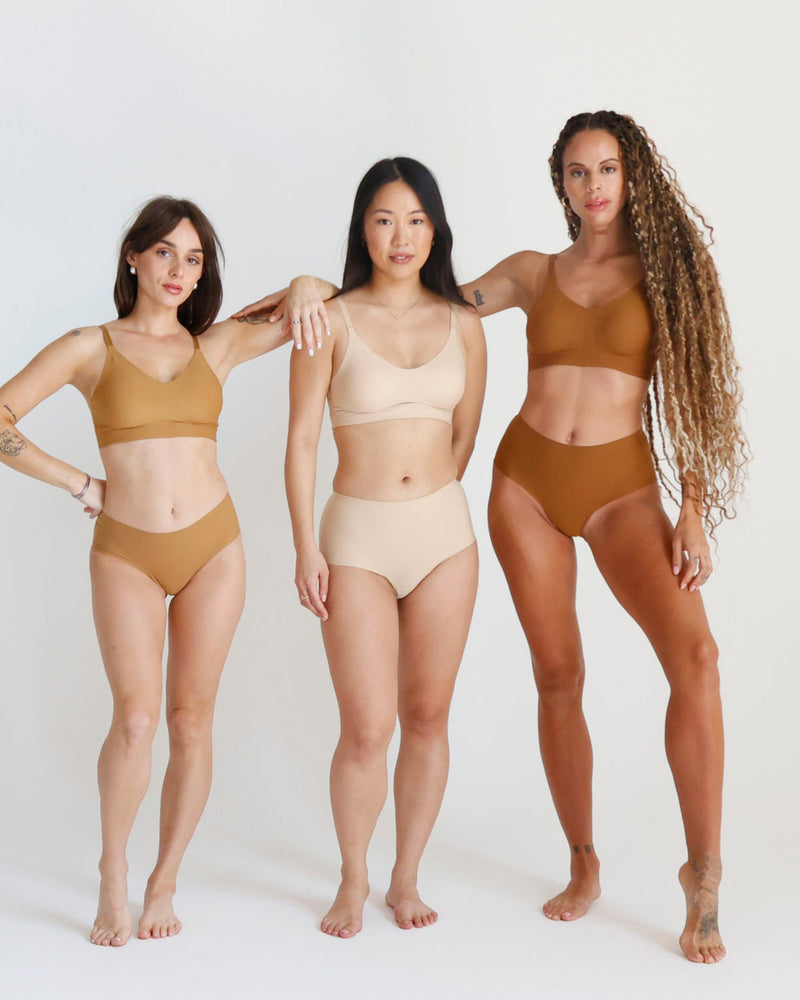 Ever wondered why your bottoms look off? It's likely because you need to get your sizing right on two dimensions. The first, and most common, is body shape (aka, your horizontal figure). Some basic examples include hourglass, pear, or inverted triangle.
But you also cannot ignore your vertical proportions. In simplest terms, this describes how the top half of your body compares to the bottom half. There are three basic types of vertical silhouettes: balanced, long legs/short torso, and short legs/long torso.
If you wear any sort of high waist style, your vertical body type is a key factor in influencing how bottoms fit—and look. A general rule of thumb: the shorter the torso, the higher the bottoms will sit along your waist.
When we were designing our high waist underwear, our 36 testers could not agree on one thing: what was the perfect height? What a lightbulb moment! A singular rise doesn't work because everyone has different vertical proportions.
So we decided to create the first-ever high waist underwear with options for rise—high and super high. That way, you can always find the perfect fit for your hip size and torso length.
Here's a guide that shows how the three okko rises should fit based on your vertical proportions. Keep in mind that these recommendations are generalized, so feel empowered to go with whichever option makes you feel the most confident.
BALANCED
Signature (mid-rise) – on or right above your hip bones
High waist – right under your belly button
Super high waist – cover your belly button
SHORTER TORSO
Signature (mid-rise) – above your hip bones but below the belly button
High waist – right on your belly button
Super high waist – significantly above your belly button
LONGER TORSO 
Signature (mid-rise) – below your hip bones
High waist – in between your hip bones and belly button
Super high waist – close to or under your belly button
Shop our high waist styles here. Want to see more? Follow @okko.co on Instagram.