Top 5 Tips for Bra Shopping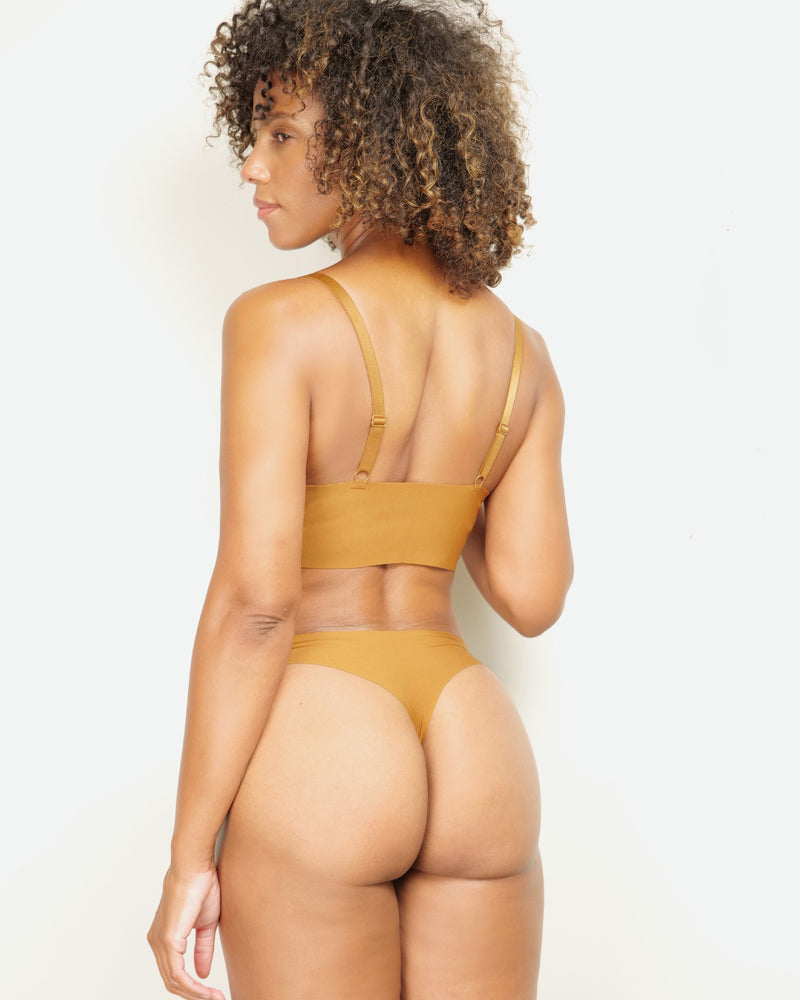 With so many styles and types of bras on the market, there's a holy grail bra for pretty much everyone — but finding it can be a challenge. When should you wear an underwire versus wire-free bra? How do you know you found the best fit? What bras should you wear for certain types of clothes?
We hear you, so we spoke with designer Jessica Owusu-Afriyie, owner of Suite Creative Studio, who specializes in intimate apparel. "Bras are a different beast than most apparel categories," she says. "They need to be really functional, but also fit a person's body incredibly well."
We've worked with Jessica to develop okko's bra size range (and on a few other projects currently in the works, wink wink). We asked her all the bra shopping questions you could possibly have, so you don't have to. Here are her top tips for finding the perfect bra for you:
1. Wirefree bras allow for flexibility
For optimal comfort and flexibility, a wirefree bra is probably the pick for you. If your breasts fluctuate in size around your period, or if you're pregnant or nursing, a wirefree bra is much more forgiving than an underwire one and still offers great support, Owusu-Afriyie says. And when you're now spending most of your time at home, reaching for a wirefree bra makes total sense.
2. Underwire bras help you achieve a specific bust shape
Underwire bras can sometimes get a bad rep, but they are most ideal for achieving a certain bust shape or separation of the bust, Owusu-Afriyie says. They are a good option for tops and dresses of particular construction, and they also provide more support for larger busts. 
However, while a well-tailored underwire bra should be comfortable, the wire can eventually come out of the casing and poke you — in which case, the bra is unwearable without repair.
3. Know the difference between your rib cage and bust size
In order to reap the benefits of underwire bras specifically, you need to make sure they fit perfectly, she says. Owusu-Afriyie says you should know the difference in band (the part of the bra that wraps around your rib cage) and bust size to ensure optimal fit. The band should fit snug around your ribcage when you hook your bra on the largest hook, or the one closest to the end. "Elastic loosens up over time. If you start with the biggest hook, it allows you to move to the tighter hooks as the elastic breaks down with wear," she says. "This will give you the longest life out of your bra."
But knowing your size is also helpful when shopping for wirefree bras, as you still want the band to provide support. "If you have a smaller ribcage and larger bust, typically consumers will size up to get the coverage for the larger bust size," Owusu-Afriyie says. "But you might lose support because the band is too big. I recommend you size to your rib cage but pay attention to coverage of the bra cup."
4. When you're trying a new brand, try a few sizes
Even if you're a tried and true size in one brand, that doesn't mean you will be the same size in others, she says. But when you're bra shopping online, it can be hard to estimate your perfect size. When you're just getting familiar with a brand, Owusu-Afriyie recommends ordering one or two extra sizes to ensure you're getting the best possible fit. "If you just buy one size and it doesn't fit, that means you move on to another brand without knowing if it was just the wrong size," she says.
5. You know your body best

A lot of brands try to tell consumers that a large portion of women are wearing the wrong bra size or the wrong type of bra, Owusu-Afriyie says. Take it with a grain of salt. "People do have a strong preference on what they are looking for, and ultimately the wearer is the expert," she says. "It really comes down to what makes the wearer most comfortable."
What are your best bra shopping tips? Share with us on Instagram @okko.co!
_
ABOUT THE AUTHOR: Haley Kim is a journalist and content creator based in California. Her day job is in the tech industry, but when she's not working you might find her reading a fiction novel, making collages and jewelry, or drinking boba.